BlueMountain Self Storage
Office Hours
Monday - Friday 9:30 AM - 6:00 PM
Saturday- Sunday 9:00 AM - 4:00 PM
Access Hours
Everyday 6:00 AM - 10:00 PM
| Size | Unit Details | Price | |
| --- | --- | --- | --- |
| | 1st Floor Standard, Climate, Inside, Alarm | | |
| | 3rd Floor Standard, Climate, Inside, Alarm | | |
| | 1st Floor Standard, Climate, Inside, Alarm | | |
| | 3rd Floor Standard, Climate, Inside, Alarm | | |
| | 1st Floor Standard, Climate, Inside, Alarm | | |
| | 3rd Floor Standard, Climate, Inside, Alarm | | |
| | 3rd Floor Standard, Climate, Inside, Alarm | | |
| | 1st Floor Standard, Climate, Inside, Alarm | | |
| | 3rd Floor Standard, Climate, Inside, Alarm | | |
| | 1st Floor Standard, Climate, Inside, Alarm | | |
| | 3rd Floor Standard, Climate, Inside, Alarm | | |
| | 1st Floor Standard, Climate, Inside, Alarm | | |
Modern solutions for the next generation of storage. No lock, no problem. BlueMountain Self Storage is the first to bring Storage Smart Entry by Noke to Northern Colorado. Using our Bluetooth connected app we've replaced all the headaches of traditional storage you find anywhere else. Learn more about our amazing amenities by checking out our features page or stopping by our office for a tour.
Check Out What Our Customers Are Saying
"
"
Randell Frye
on 01/14/2020
This is the best storage facility I've ever used! The entire staff has been so helpful and kind. I would highly recommend blue mountain to anyone looking for a clean and secure storage unit!!!
"
"
Is was so nice to find a storage facility that is clean, high tech, as well safe making me fill comfortable to access by myself with my littles in tote! The staff as well customer service is top notch! Very pleased, highly recommended!
"
"
Jessica Cunningham
on 11/17/2019
If we could give a 10 star rating, we would! Blue Mountain Storage has been very accommodating to us and the customer service has been terrific. The building and units themselves are clean and the electronic access is wonderful. It is easy to move things with the carts and elevators and we could not be more pleased with choosing Blue Mountain Storage for our belongings and keepsakes.
Competitive Pricing & Discounts
BlueMountain Self Storage is an indoor state-of-the-art smart storage solution serving residents and local businesses in Northern Colorado. Our staff and management are more than capable and willing to provide concierge-style customer service in order to accommodate any storage need.
We value the safety of our tenants and their belongings, so we've installed a SecurGuard security system that allows tenants to access their individually alarmed unit using the Storage Smart Entry by Noke` smartphone app. In addition, our facility is monitored 24/7 using high definition video cameras, with motion-sensor LED lights in each hallway, wifi and music playing through out.
Don't waste another minute dealing with clutter. Reserve a unit online today!
Motion activated lighting, paperless office with docusign forms, 24 hr. security
monitoring and internet-controlled heating and air systems.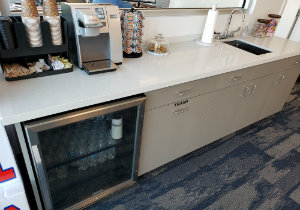 Wifi, music, restrooms, workstations, professional leasing office with hot coffee, cold
water and fresh cookies baked daily.
Free smart phone app allows control of building entry, dock bays,
elevators, storage unit doors with Bluetooth access and offers easy bill pay.
Peace of mind from interior electronic locks, individual unit alarms, motion detectors
and optional cylinder locks.
Unit and building alarms, HD cameras, LED lighting and located next to the Johnstown
Police Substation at Liberty Arms.
Covered access for pick-ups, moving vans and full-size semi-trucks. Easily open dock doors right from your app.
Fast freight size elevators, carts, dollies, hotel valets and pallet jack for your use.
Interior units with comfortable climate control for protection all year in any